RowMerge Document Generation
To generate a RowMerge document, you need at least one document template attached to the table. Only table owners can add RowMerge templates.
By default, RowMerge will generate documents based on all the rows of the selected table (actually, all the rows you have access to). If you want to generate a document on a subset of the rows, you have two options:
Either apply filters (or a search) on the table. RowMerge will process all the displayed rows
Or check the checkbox next to each row that you want to include. If at least one row is selected, RowMerge will only process selected rows.

Once you have decided which rows you want to include, click on RowMerge above the table, select a RowMerge Document Template, choose an output file format if you don't want to stick with the default and click on "Generate".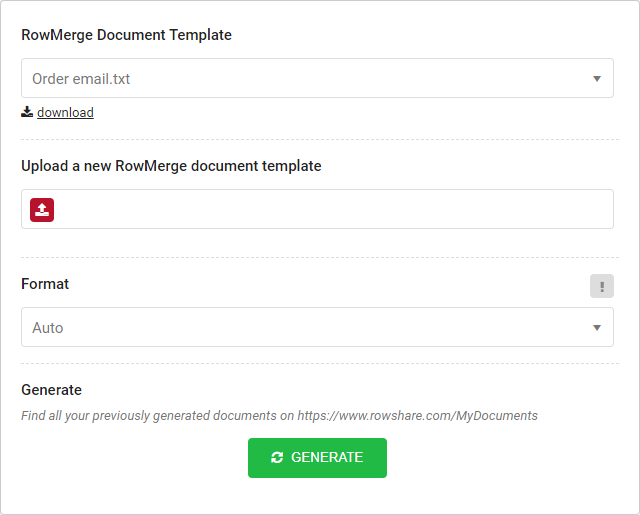 The generated document(s) can be viewed in the same page, and you can also browse your RowMerge history available from the left navigation pane.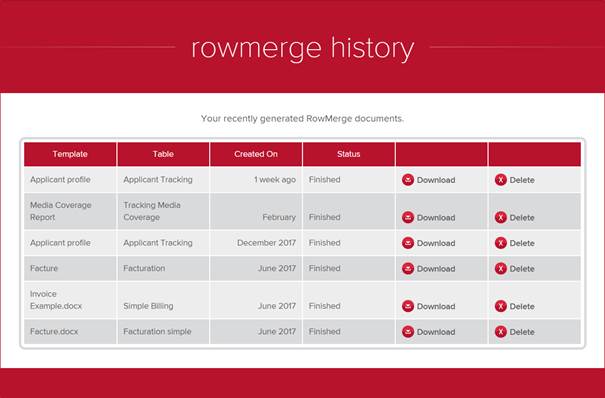 On this screen, you can monitor the progress of each generation, download your generated documents or delete them if needed.

---
---