RowShare Pricing and Billing
RowShare Administrators can access the Plan and Billing tab of their subscription management page.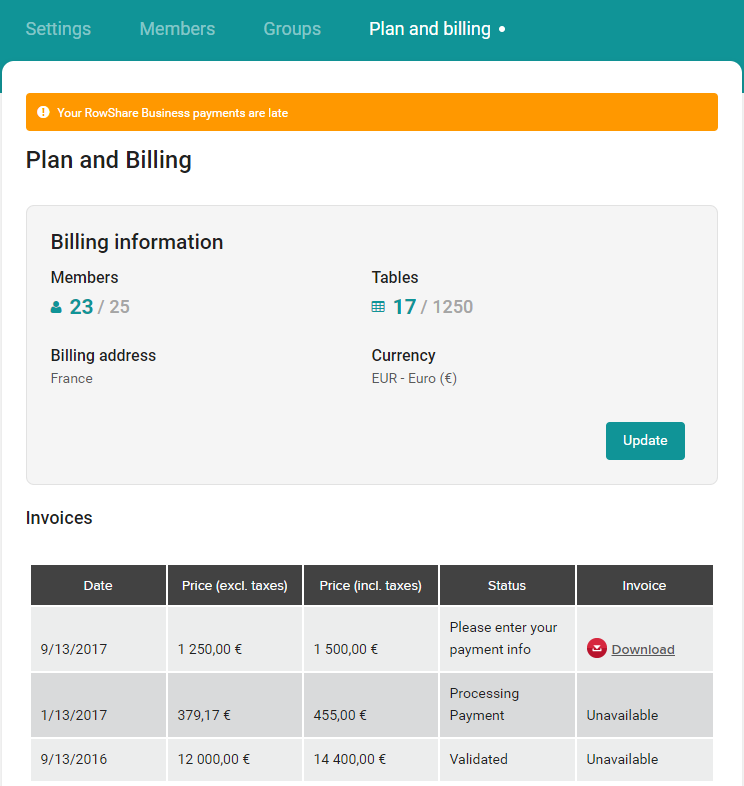 Information about your Subscription
The first section lists key information about your subscription : number of active and maximum number of members and/or tables, your billing address and billing currency.
This section also lets you change your billing address, payment mode and members/table maximum count.
Change Member / Table limit
RowShare invoices you a number of members or tables every month or every year. You can change this number at any time.
A team size increase is effective immediately: you will immediately be invoiced the extra members or tables at a pro-rated price depending on how long your monthly or annual subscription is still running for.
You can decrease your team size at any time as well. The decrease will be effective at the time of your next invoice, so that you can benefit of your extended team for the period you have already paid for.
Inactive and Read-Only users do not count against your Team Size / Maximum number of users.
Cancel your subscription
If you would like to stop your RowShare subscription, click Unsubscribe. Your subscription will then expire at the next invoicing date. Your RowShare Business subscription remains fully functional until then.
During that time, a new option is available: Cancel request to unsubscribe. This reverts to the previous state and your next invoice will happen as scheduled.
Inactive RowShare subscriptions
Your subscription could be deactivated for the following reasons:
No active plan
Payment more than 5 days late
When your subscription is deactivated, you no longer have access to your tables and folders, but your data will be retained for a period of three months.
You still have access to your RowShare subscription Settings to change your plan or update payment details. If you do not know why your organization has been deactivated, please contact our support team.

---
---