Try out the new version of RowShare!
A New Version?
Our product team is busy revamping RowShare tables.
Visually, you won't get lost. We have kept our fundamentals: a sleek design that puts your data at the center of the stage.
On the other hand, many improvements to save your time every day. These changes will come over the next weeks and months.
Some are already available. Among the most popular:
Move columns by drag & drop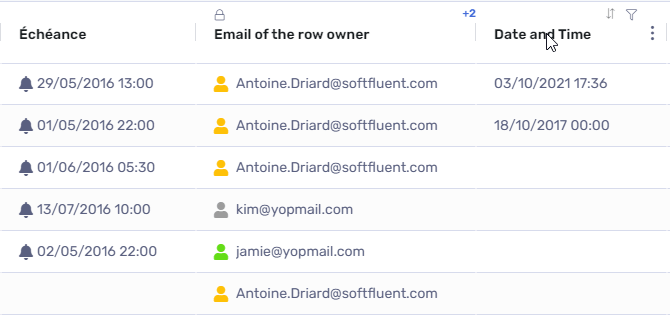 Vastly improved performance and much more stable User Interface, even for really large tables!
Modern and useful filters letting you find:

Any text in a given column
Dates before and/or after another

Numbers greater or smaller than another one
Individual values in multiple selection lists

A redesign total bar that is always visible regardless of your scroll height
The ability to pin and hide columns from each column menu
Many User Experience improvements (colored drop down lists, clearer error messages, links easier to click, less repetitive clicks...)
You can now automatically resize one or all columns
Soon we'll add to that Copy & Paste of table sections, a true high-fidelity print feature, row and columns groups and much more...
How can you get this new version?
Head to My Account page, click on "Beta Features" and you'll be offered the choice between the former and the new versions of RowShare.

Once you activate this option in your account, when using any RowShare table, you will see a blue banner offering you to test the new version. On the new version, a similar banner will let you switch back to the standard version, should you have problems with our Beta version.

It's a beta version, so it's not yet finalized. There are still some bugs and missing features. We know you'll excuse us 😇. Please let us know what you miss and any bug we might have missed.
Among the missing features, you can't yet launch a RowMerge job on specific rows of a table and Table views are not yet back. We're working on it! 🚧
For any issue, remark, compliment that you'd like to share, contact us through the Chat.

---
---